SMOK STATEMENT ON COUNTERFEIT PRODUCT
DEAR SMOK FANS AND CUSTOMERS:
Recently, we have received multiple counterfeit reports from our customers and retailers. Those reports involved with product AL85,OSUB 40W,Vape Pen 22 and Stick V8 which are our main product. We make this statement to strongly condemn such action and showing our determination of defending our brand and protecting our customer from counterfeiting.
The first concern to us is, due to those products' popularity, we do concern about counterfeits' technical safety and stability. With using inferior raw material, counterfeits could have potential possibility of explosion and that could result in safety incident. Therefore, we strongly recommend our customer to stop using those products immediately and report counterfeiting . Other major concern to us is, SMOK stands on the value of providing best and safety product to our customers, giving them best experience with SMOK, but with raising number of counterfeits we can not deliver that commitment to our costumer. Counterfeit products not only damage our commitment to our customer but also bring potential safety risk to our customers.
Technical Information of Counterfeit Product:
AL85(counterfeit), counterfeit AL85 is using very cheep and inferior raw material, with little experience and technology in manufacturing those products is defective and less handle than genuine. Especially for the control unit circuitry and main component, inferior raw material and defective manufacturing may increase the risk of electrical short circuit and cause potential explosion.
Same for counterfeit stick v8. Counterfeit stick v8 has no power safety protection. When customer using low-resistance core, it is very easy to trigger short circuit and increase the risk of explosion.
HOW TO CHECK AUTHENTICITY OF SMOK PRODUCT
After you purchase SMOK Product, you can login to official website or Vapingtour, input anti counterfeit code or scan barcode to double check the authenticity of your SMOK product.
1. How to check authenticity with First-Gen anti Counterfeit code: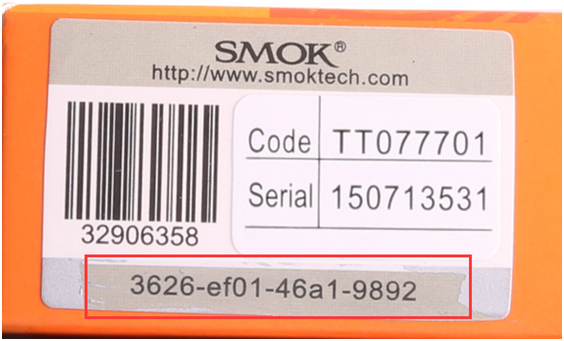 Authenticity Verification Instruction:
Open our official website http://www.smoktech.com/support and input counterfeit code(Red Box) twice to check the product's authenticity.If you received counterfeit notification, please return this product immediately and report unauthorized retailer and product through support@smoktech.com.
2. AB anti Counterfeit code: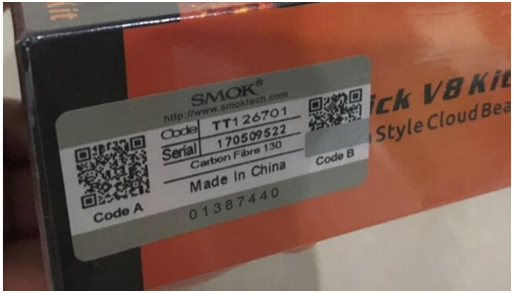 Authenticity Verification Instruction:
Open Vapingtour App, scanning both barcode A and B to check.If you are using the system for the first time, please check following instruction:http://www.smoktech.com/new-anti-counterfeiting-system.
If you receive counterfeit notification. Please return this product immediately and report unauthorized retailer and product through support@smoktech.com .
OUR EFFORTS TO COMBAT COUNTERFEITING AND IMPROVE THE QUALITY OF OUR SERVICE AND PRODUCT
We would like take a moment to share the efforts we are taking to ensure only legitimate SMOK products end up in the hands of our loyal customers. As part of our commitment to the integrity and quality of SMOK technology and services, we keep putting time, resources and human resources in product design and development, manufacturing, brand protecting and operating. Unfortunately, counterfeiting is not a new issue in our industry or indeed in any successful global enterprise. Because our customers expect and deserve the highest-level of satisfaction when purchasing SMOK products, we actively monitor the counterfeit market and have longstanding processes in place to address this challenge. Also, our brand team leads an aggressive, concerted and company-wide effort to prevent potential damage to our brand and to our customers as a result of counterfeiting. Because counterfeiting is a criminal activity, we work closely with law enforcement agencies and take all legal action available to ensure the safety of our product and reputation of our company.
So what can you do? We can't stress enough the importance to SMOK customers and retailers of procuring equipment only from SMOK authorized channels. If you have any questions or concerns I would recommend contact SMOK support immediately through support@smoktech.com . Again, we appreciate the loyalty of our customer and support form our retailer. If you find any counterfeit product or unauthorized retailer, please report to support@smoktech.com .This is a serious issue that we are diligently fighting every day to ensure our customers receive only genuine SMOK products.