Identify Fake Alien Kit
Recently, we have receive some counterfeit reports of SMOK Alien Kit. Counterfeiters are using the SMOK name and trademark without license therefore SMOK cannot and will not accept such behavior like counterfeiting and violation of our intellectual propriety right. Once again we strongly condemning such behavior and we are determined to use any legal means to prevent and stop such behavior.
DON'T BE FOOLED BY FAKES AND WHY CHOOSE GENUINE PRODUCT
When you buy a genuine SMOK product, you are not only buying the product but also buying the peace of mind that IVPS Company will be responsible for our genuine products. Genuine products will gone through very serious quality examination and safety examination through design to manufacture. we will test it repeatedly and using safe and certified material with good quality. Counterfeiter do not care about the quality of the product, they only care about money and selling. Therefore, Fake product has safety risk, highly recommended for not purchasing such product.
BEFORE YOU BUY AND HOW TO CHECK ALIEN KIT'S AUTHENTICITY
SMOK products are made of the highest quality materials and put through rigorous quality assurance testing to meet the standards our customers deserve. To avoid the potential hazards of counterfeit products, here are some key things to look out for:
If it seems like too good of a deal, it probably is. Be suspicious of massive markdowns on "SMOK" products.
If the packaging has spelling errors, is damaged, or seems incomplete in any way, it is probably a fake.
CHECK AUTHENTICITY
http://www.smoktech.com/support
COMPARISON BETWEEN GENUINE AND FAKE PRODUCT
1. Check Packaging
Fake products' packaging is defective, plastic is sealed in random location. As shown below, fake product plastic sealed in the front of product packaging, but SMOK genuine products plastic are strictly sealed specified on the back of product packaging.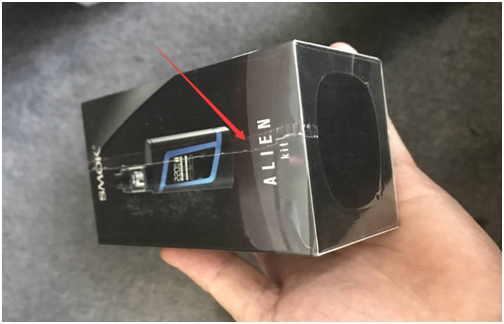 2. Check Exterior
Fake products' decorative pattern is simple with smooth texture. Authentic product with matte effect, and feel a little bit bumps. Just like picture showing below, face product not only the surface are made with cheep material and feels smooth but also the pattern is wrong.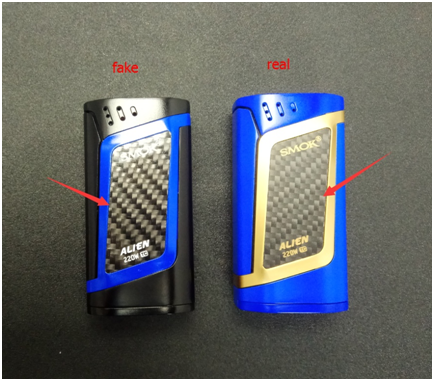 3. Product Quality
Terrible manufacturing. In order to decrease the cost of manufacturing, Counterfeiter use cheep material, sometime will cause some product quality and safety issue; No Quality Control.
(1)510 Port Wrong Position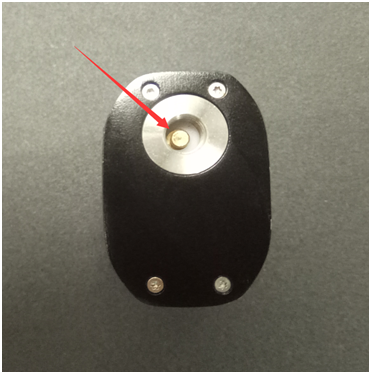 (2)510 Terrible Welding: See picture below, hard to screw in place, huge gap between atomizer and mod.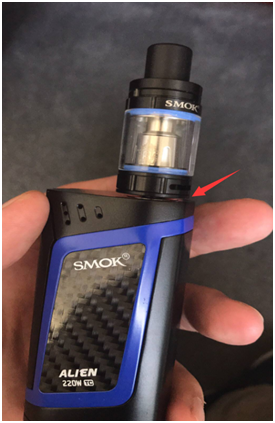 (3)CORE:Heating coil is easy to burn out and cotton is easy to remove from core. In other case, genuine SMOK product's cotton is placed firmly inside core, its Heating coil is enhanced.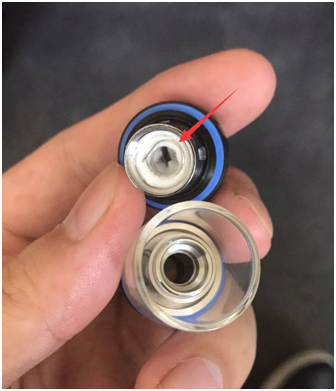 WHERE TO BUY
1. You can Purchase genuine SMOK product on our official website: store.smoktech.com
2. You also can purchase genuine SMOK product in our authorized distribution channel. List of some partners: http://www.smoktech.com/global-partner