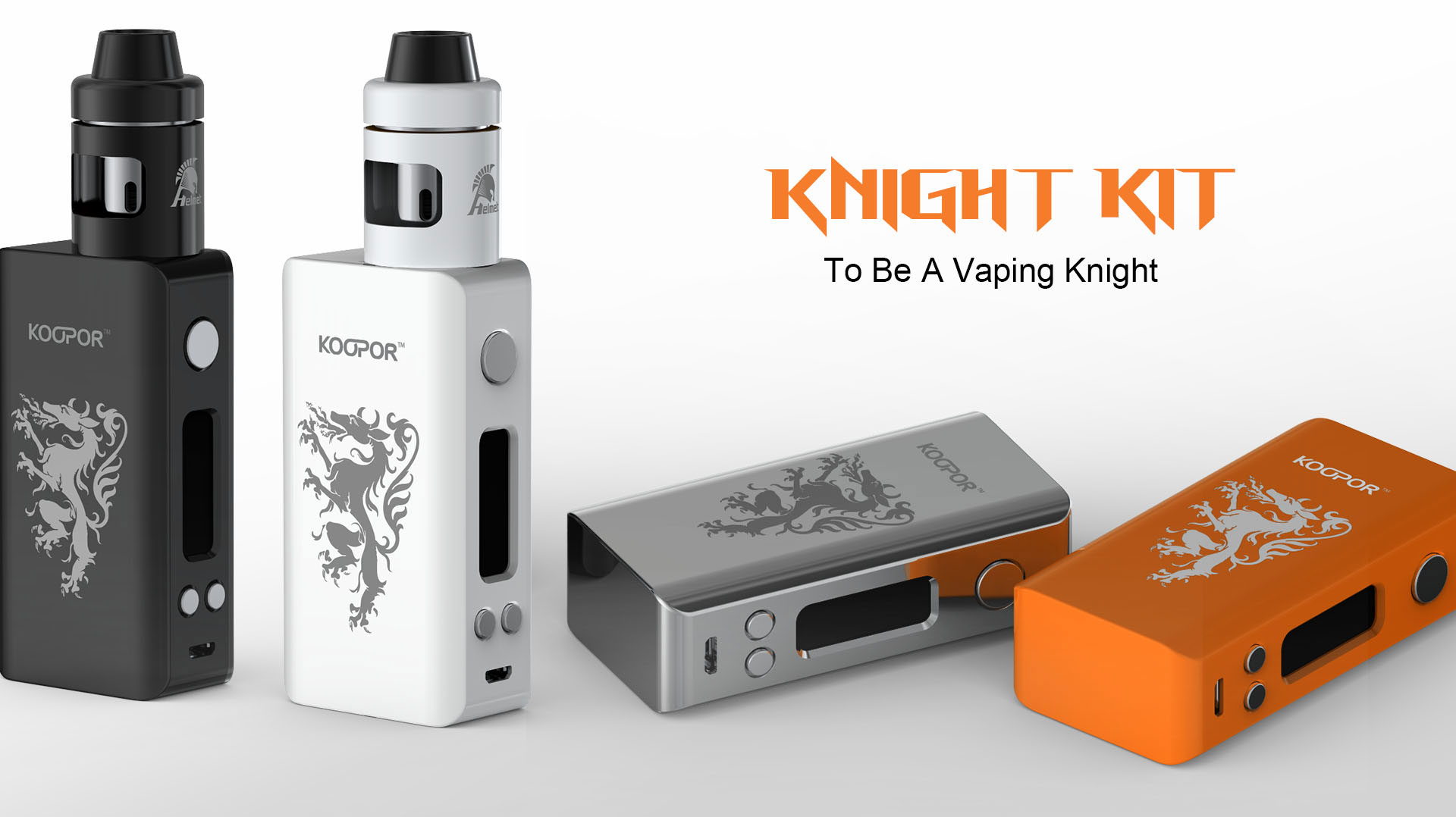 BEING VAPING KNIGHT-
KNIGHT KIT
It is impossible to be a medieval knight, but you could be a vaper with knight' s spirituality by the
Knight Kit. The kit consists of KOOPOR MINI2 mod and Helmet atomizer. Both the knight' s helmet
shaped atomizer and the leak-proof U shaped e-juice tube mean knight' s freedom & romance. The mod
power can up to 80W; the printing pattern is a mythical creatures; the mod box likes the protective
equipment of knight, which stands for valor. People care about you, so does the God. So, knight vaper
fight for your honor now!
KNIGHT KIT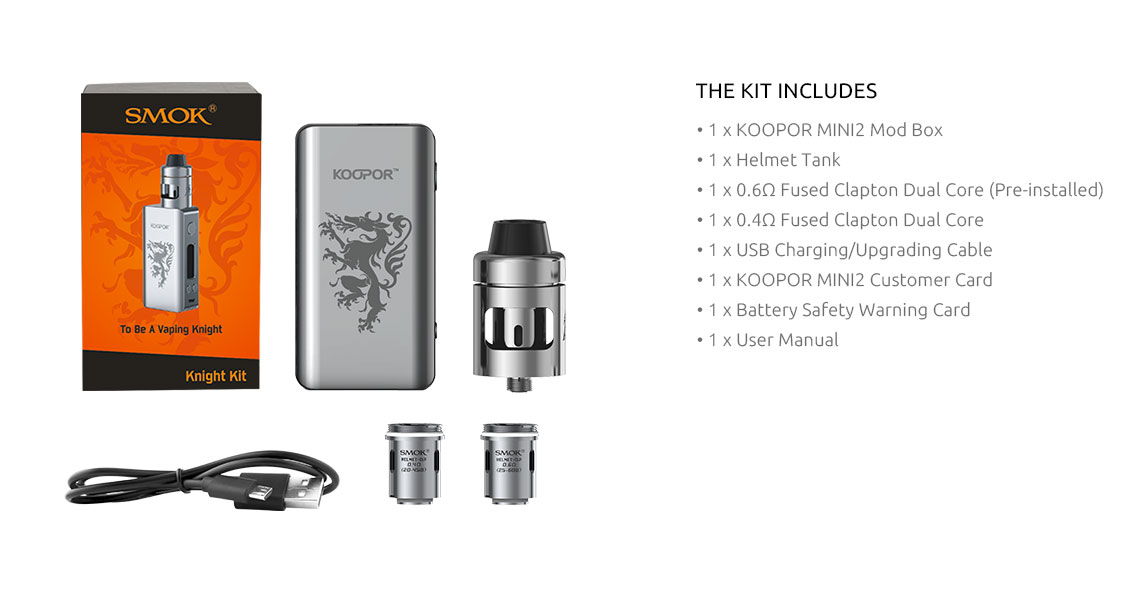 SPECIFICATIONS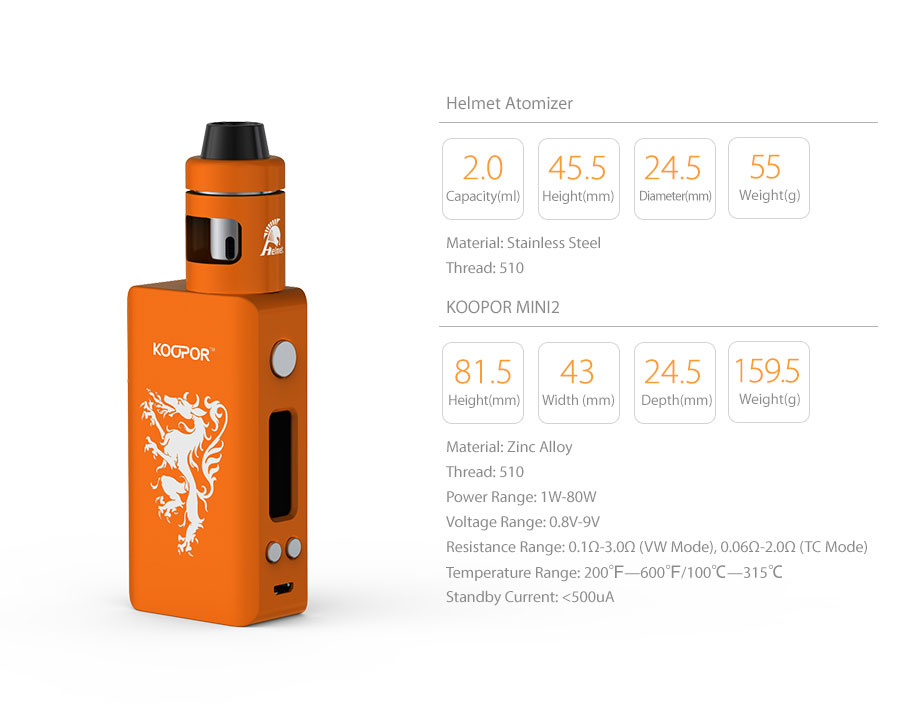 COLORFUL FINISHES, MORE
OPTIONS
Well-built from high-quality zinc alloy, KOOPOR MINI2' s slim and compact body is aesthetically
pleasing and comfortable to hold. In addition, KOOPOR MINI2 has new painting finish that is more
durable, adds a shiny look and soft feel, and provides more eye catching colors for you to show your
style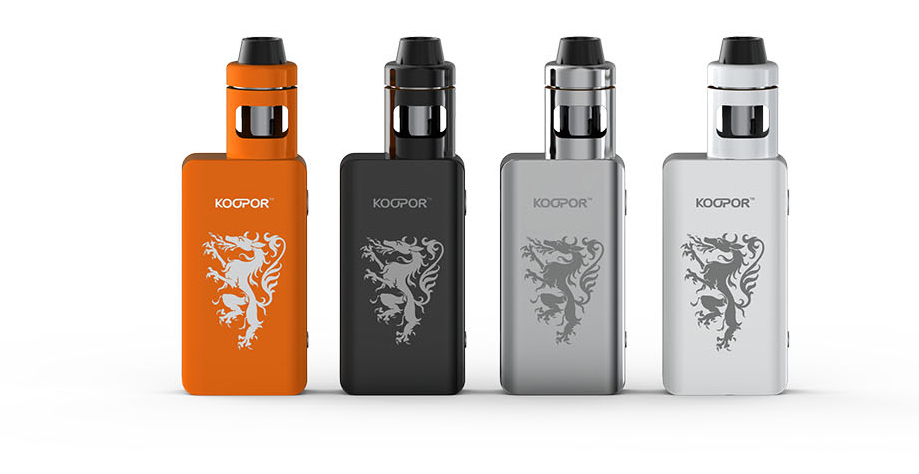 FIRMWARE UPGRADE
KOOPOR MINI2 supports firmware upgrading with a USB port so that you can keep up with vaping
evolution.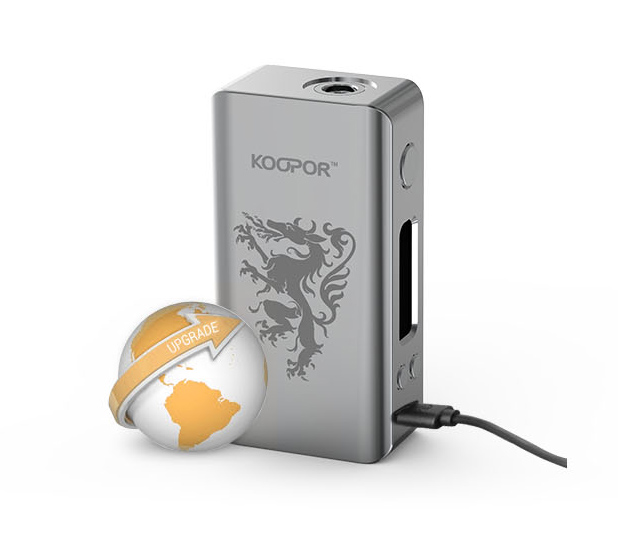 SAFE TO USE–FOLLOW THE
EU TPD
The vaper always concerns the safety of vaping products; The Helmet Kit accords with the security
specifications of TPD (Tobacco Products Directive), so you can enjoy it freely, even though you are a
vaping novice.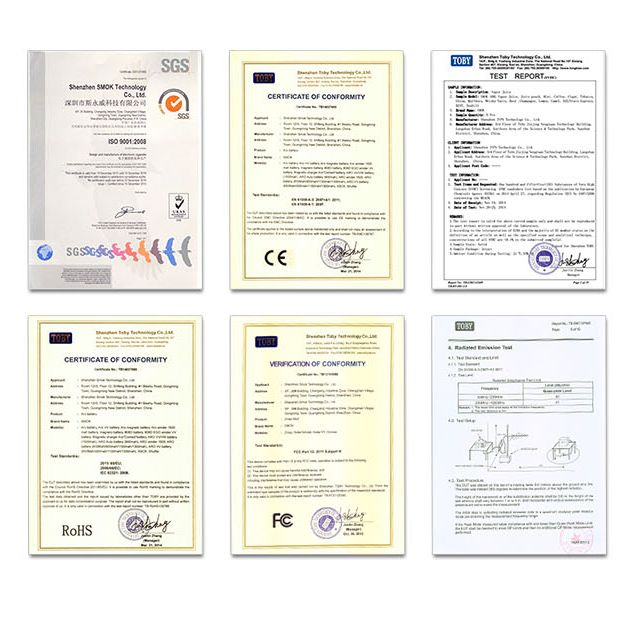 U-SHAPED E-JUICE TUBE
Helmet atomizer uses top airflow system, U-shaped e-juice tube totally enclosed design solve the e-
juice leaking problem.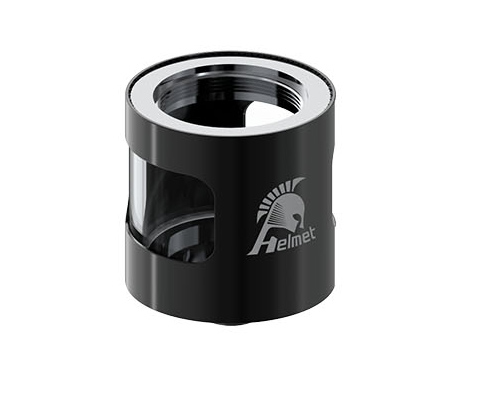 TOP PRESSURE SPINNING
DESIGN
You need press the top part of the atomizer to remove it, which is safer and can avoid the children' s
accidentally open.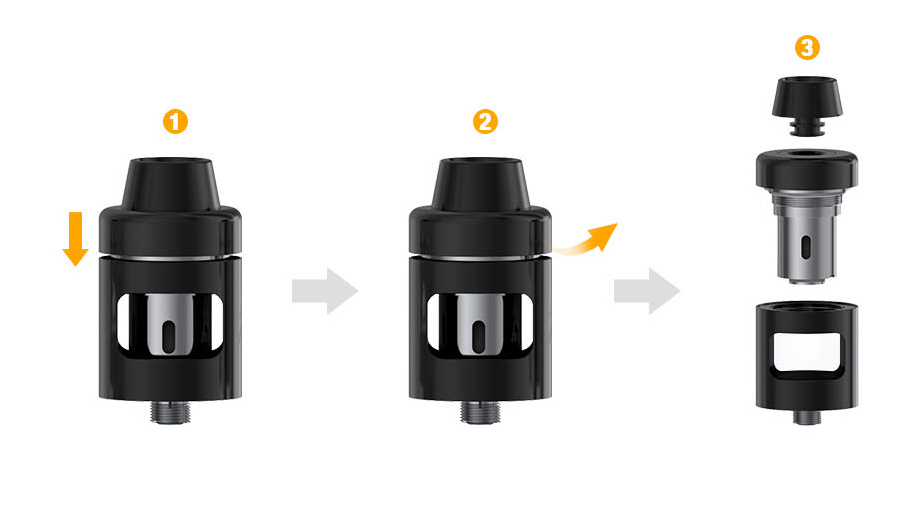 STAINLESS STEEL & GLASS
MATERIAL
Helmet atomizer is made of stainless steel material, which is glossy, durable and no harm to human
body. E-juice tube uses medical glass that can ensure non-toxic and high temperature resistance.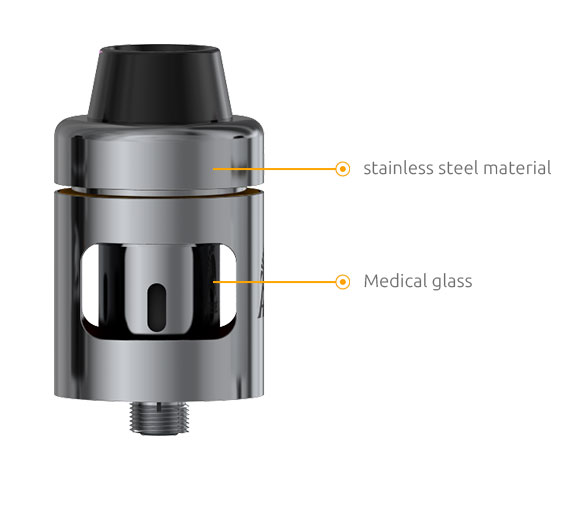 TOP ADJUSTABLE AIRFLOW
SYSTEM
Helmet atomizer uses top adjustable airflow system, and the air slot forms a circle on the top, airflow
can be adjusted freely, which allows you to have an extremely open draw.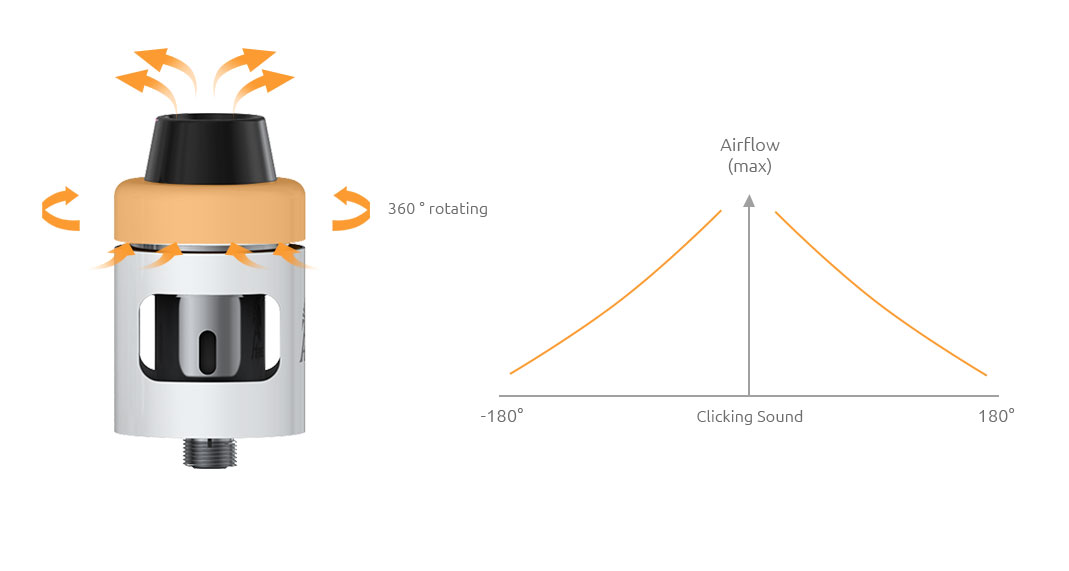 TOP-CAP FILLING DESIGN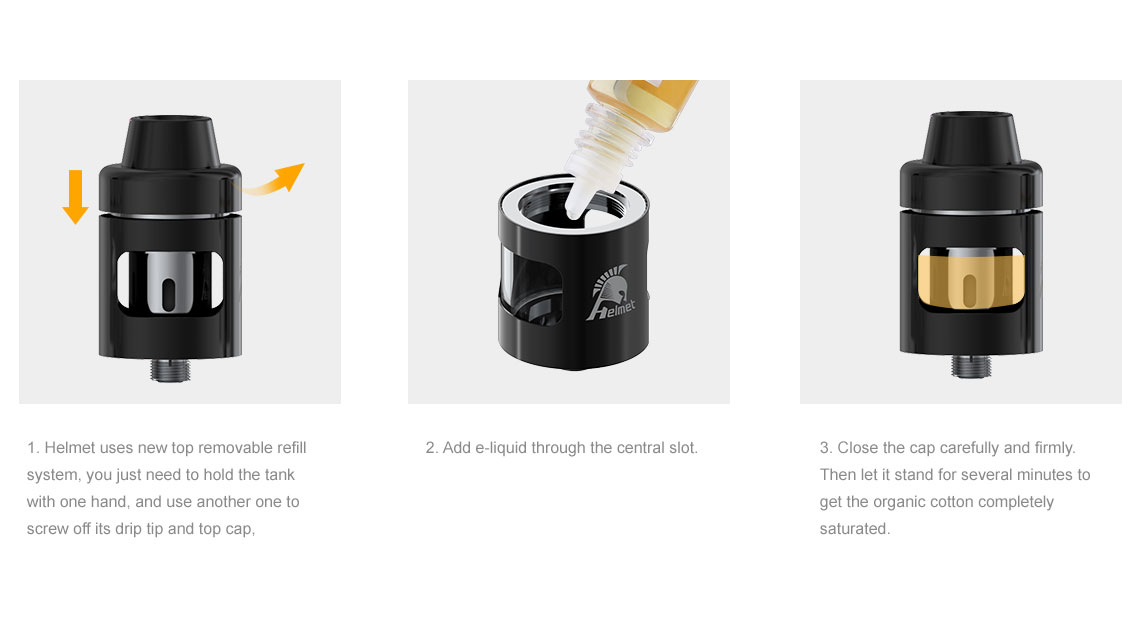 MYTHICAL CREATURES
PRINTING PATTERN
KOOPOR brand insists cost-effective & affordable and high performance to meet up with young vapers'
demands. The mythical creatures printing pattern is very interesting, and KOOPOR names it with the
meaning of knight' s valor.

80W TC/VW MODES
KOOPOR MINI2 uses TC/VW Modes that can be switched freely; the output power upgrades from 60W
to 80W, which is more accurate and takes better users' experience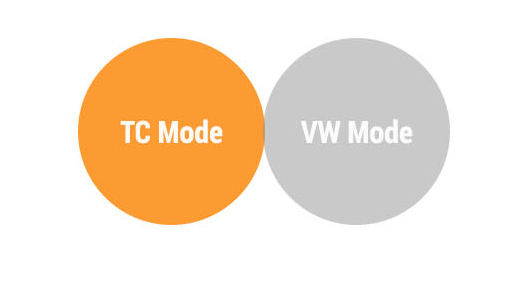 MAGNETIC DESIGN
Oh, no! Don' t tell me you are still using screwdriver to replace battery. That sucks, doesn' t it? Now,
KOOPOR Mini 2 takes magnet-held battery cover. You can simply slide it off and replace battery
without tools.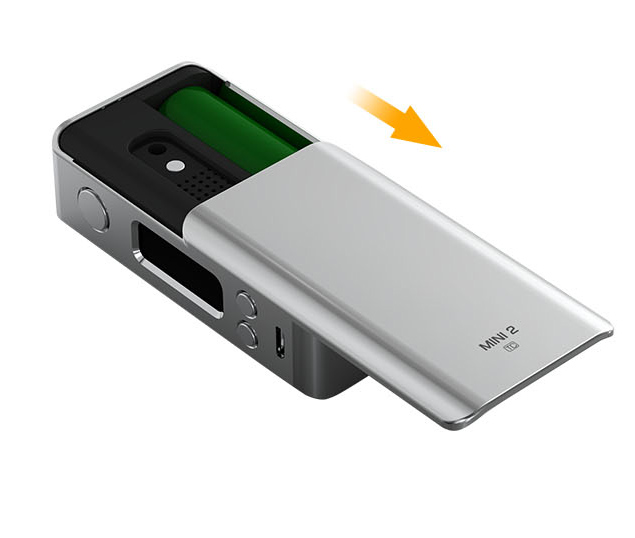 STRUCTURE DESIGN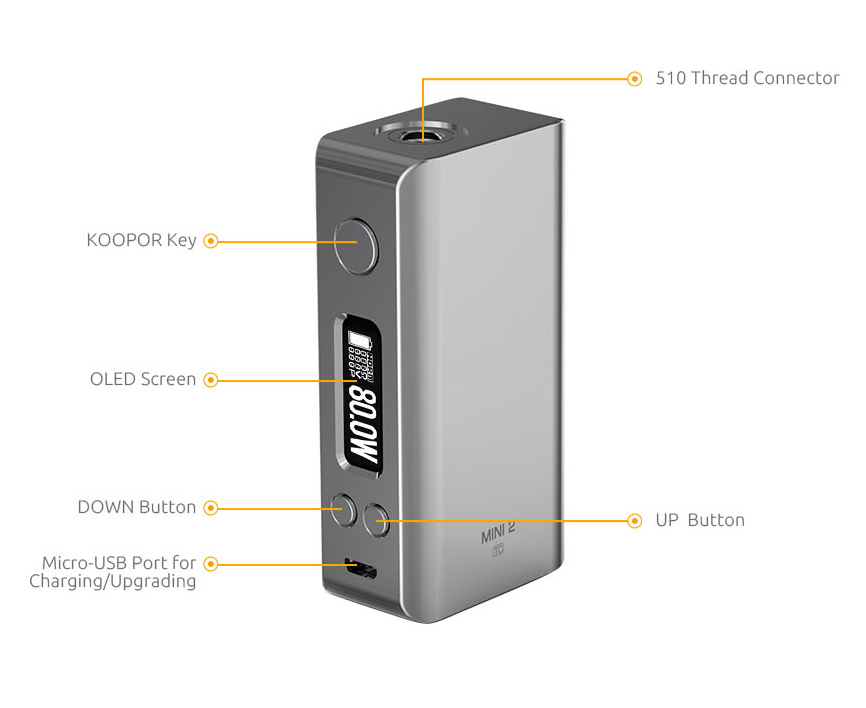 0.91-INCH BARE OLED
SCREEN, EASIER TO READ
First using 0.91 -inch Bare OLED Screen, KOOPOR mini2 has a bigger and brighter display to let you
feel more comfortable to read. Even in the outdoor strong light conditions, it' s easy to see what' s on
the display.

+/- BUTTON COMPARISON
The +/- Buttons of KOOPOR MINI are vertical, while that of KOOPOR MINI 2 are horizontal, different
location design can bring diverse user experience