Do you often go to hit your vape only to be left coughing, with a terrible taste in your mouth, even though you swear you just changed the coil in your vape not too long ago? If this is a common occurrence for you, you may be burning the wick in your coil faster than you should. The most common cause of this is an incorrect temperature setting on your vape.
Limiting the temperature on your vape is an easy way to extend the life of your coil as well as the time you get to enjoy your vaping experience. This is done via Temperature Control Vaping.
What is Temperature Control Vaping?
If you have a device with this feature, you can use the Temperature Control (TC) to pre-set a temperature value as the high limit for your coil. When set, the TC monitors your coil and adjusts, restricts, or simply cuts off power to the coil until the temperature has lowered. This feature can drastically improve your vape's battery life and coil lifespan and offers more consistent flavor and vapor.
Temperature Control Setup and Use
If you've never really experimented with modifying devices, setup can be a bit scary at first. But trust us, it's not that bad! The first thing to do is to find out the type of metal your coil is built from: nickel, stainless steel, or titanium. Your TC device may have a single TC mode that works with any coil or it may need to be set to your specific coil type. Once you've set that, lock in your room temperature. This gives the device information needed to set the baseline for your highest temp point.
To start vaping with your TC vape mod, just attach the tank to your mod and select the appropriate profile for the type of coil you have, then lock the resistance at room temperature according to your device manufacturer's recommendations. Finally, set your desired temperature and enjoy! We always recommend starting low with your temperature and working your way up to find your sweet spot. The ideal temperature will vary depending on your personal taste and the PG/VG blend of juice you're using.
SMOK TC Vape Mods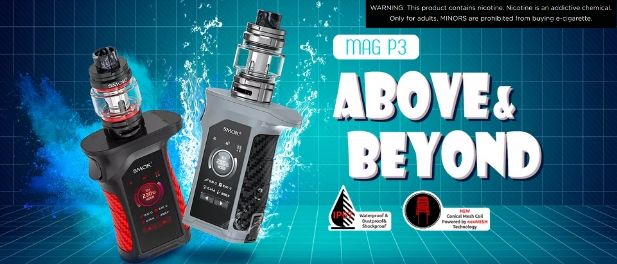 If you're looking to enhance your vaping experience and also try out Temperature Control Vaping, check out our MAG P3 Kit! This kit continues our classic MAG series and is now waterproof, dustproof, and shockproof. It also features the Temperature Control Mode, made easy to adjust with the super-responsive, impressively-sized 1.9" HD touch screen for easy operation. Jump into TC vaping with this all-in-one kit that makes it easy to set up and use. Learn more at our site or visit an authorized SMOK retailer near you.