What is RBA?
Advanced vapers often get bored relying on pre-made, standard vapes and want to venture into building their own. Re-Buildable Atomizers, or RBAs, are advanced devices with decks for which users can create and install their own coils and wicks, or "builds." The term RBA can refer to either the removable decks in vape tanks or to any atomizer that has a build deck, and falls into four categories: Rebuildable Dripping Atomizer, Rebuildable Dripping Tank Atomizer, Rebuildable Tank Atomizer, and genesis.
RBA heads work with sub-ohm tanks and clearomizers, taking the place of factory-made coil heads and allowing the vaper to take control over their own builds. They're removable and replaceable like any normal coil heads, but they have to be used with specific tanks, as most tanks don't have an RBA head. Tanks that do come with RBA heads are a great entry-point to custom builds and allow vapers to grow their building experience. The two main types of RBAs are Rebuildable Dripping Atomizers, or RDAs, and Rebuildable Tank Atomizers, or RTAs.
RDA and RTA Vaping
RDA vaping requires the vaper to manually add e-liquid directly onto the coil and wick, rather than feeding it through the tank as would be done in standard commercial devices. RDAs have a well at the bottom of the build deck that holds the e-liquid, and the wick tails are placed into the well to soak up the fluid. Because the wells don't hold as much as standard tanks, you'll need to refill them more often to prevent the wicks from drying and burning. Because of their manual nature and the need for increased amounts of refills, RDAs are less convenient than most tanks unless they're used with a squonk mod, which allows for e-liquid to be fed through a small window in the mod.
RTA Vaping technically includes any kind of rebuildable tank but has stuck with a particular build system as new ones are created. RTAs have a deck that sits either under or in the middle of the tank, with a chimney and bell system extending up to the drip tip. These chimney and bell systems are key features of the RTA build that make it stand out from the others. The bell surrounds and encloses the deck and is sealed off from the juice, creating a vacuum within the tank that feeds the wick. This leads to a much more efficient wicking system and is especially good for higher power vaping, while the chimney creates a concentrated vapor stream, increasing vape flavor.
SMOK V12 Prince RBA Core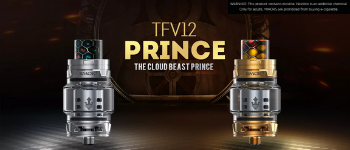 If you're considering trying your hand with RBA vaping, our V12 Prince RBA Core is a perfect starting point. This core is powered at 0.25ohm and makes a great base to start off your build. Check it out on our site or at an authorized SMOK retailer near you.