One of the most important things for any vaper to know is how to properly prime and install a vape coil. Coils that aren't properly primed before use create an unpleasant, burnt-tasting vape and could end up frying the entire coil. Learning how to prime your coils properly can help you avoid all this and help your coils live their best life.
What is a coil?
The first thing you need to know about priming your coils is what exactly they are. Coils are high-temperature metal cylinders containing an atomizer wire and a cotton wick. The heat produced from the wire vaporizes the e-juice. If the wick is dry or improperly primed, however, it will burn the cotton. The two most common types of coils are:
● Sub-ohm coils, which have an atomizer resistance of less than 1.0 ohm
● MTL coils, which have an atomizer resistance above 1.0 ohm
An Overview of Coil Priming
To prime your coils,
Step 1. Remove the tank, dispose of the old coil and screw the new one into place.
Step 2. Add a few drops of e-juice into the holes on the body of the coil. Follow that with a drop or two inside the head of the coil to fully saturate the center.
Step 3. Reassemble the tank and attach it to your mod, then take four to five dry hits, pulling from the tip without pressing the fire button. This acts as a siphon to allow the vape juice to get through the wick.
Step 4. Wait 5-10 minutes (ten is optimal) for the juice to fully saturate the wick.
Step 5. Finally, break in the coil by adjusting the wattage to lower than normal (if you can), then take a few smaller and shorter hits. Steadily increase wattage and duration until you're vaping normally again.
How to Prime MTL Coils
MTL vape coils are made specifically for mouth-to-lung vapers. Because they tend to be smaller than sub-ohm coils, you don't need to drop juice on the coil itself. Instead, simply fill your tank and let it sit for 5-10 minutes.
---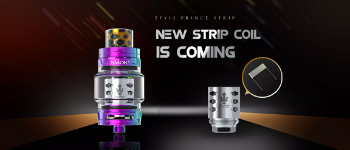 Getting the right coils for your vape makes the whole experience so much better. To find your perfect fit, check out our TFV12 Prince Big Family. Our Prince line of coils features the new v12 Prince Strip with a porous structure to increase the speed of e-juice absorption, and an enlarged heating area to heat the juice quickly and evenly. For cloud chasers, our V12 Prince Max Mesh coils offer great power and gigantic clouds, thanks to their 0.17 ohms resistance. Learn more about all our coils on our site or at an authorized SMOK retailer near you!
Learn More about TFV 12 Prince Big: https://www.smoktech.com/atomizer/tfv12-prince 
Buy TFV 12 Prince Big on SMOK Official Store: https://store.smoktech.com/product/details/208